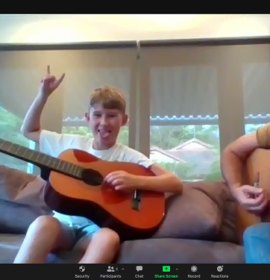 199 Denison Rd Dulwich Hill

Mon, Tue, Thu

:

08:00 to 22:30

Wed, Fri, Sun

:

08:00 to 22:00

Price:

$60 per hour / $40 per half hour (discounts available with bulk payments)

Styles Taught:

Rock, Blues, Jazz, Metal, RnB, Hip Hop, Soul, Country, Funk, Folk

Home Lessons Available?:

Yes (price inclusive on travel cost to the students location)
PRIVATE CONTACT
CONTACT US
Dulwich Hill Guitar Lessons
Jack teaches one on one private guitar lessons in Dulwich Hill and online guitar lessons in Sydney. He is an established, experienced teacher with a strong passion for music, enthusiasm for helping others learn and a personable, friendly attitude towards teaching, fueled by his love for music.
With 10 years of experience in teaching, and 15 years experience in playing, composing and performing, Jack has a general knack for connecting and engaging with students of all ages, tailoring his teaching approach to each student's own individual learning styles and goals. This unique approach allows for an ideal learning environment, and Jack's student retention rate is a testament to that, some students continuing lessons for periods upward of 5 years.
Jack believes one of his main strengths as a teacher is his ability to quickly get a sense of where each student is coming from and how the lessons might flow best for that student. His approach is to guide each student on their own unique learning path, instead of enforcing rigid lesson structures and obscure exercises irrelevant to the students desires. This guarantees that each student won't find themselves being led down a path that doesn't line up with their original goals and vision for playing guitar. However intensive or laid back you'd like the lessons to be, you can be sure you will find a suitable rhythm and that you'll be pushed just the right amount to make it worth your while, giving you the satisfaction of improving on, and developing your skills.
Jack's experience with online guitar lessons / zoom lessons has grown and strengthened over the last two years and he is now at a point where he feels as though the online format has no hindrance to the outcomes of learning guitar and in fact can encourage a more productive learning experience due to the straight-forward nature of the online medium.
Jack also offers the additional service of vocal coaching, using his 10+ years of professional singing to help guide you towards becoming a stronger and more confident vocalist.
Additional music related coaching that Jack is experienced in offering:
– Help with stage fright/performance anxiety (based on 10 years experience in live performance)
– Help with songwriting/arranging music
– Vocal coaching for intermediate/beginners (based off 12 years of professional singing)
– Assistance with recording your own ideas/tips on starting your own studio setup etc.
So if this is the kind of teaching package you're after, Jack's Guitar lessons in Dulwich Hill and the inner west of Sydney are a no brainer. You'll get an enthusiastic, experienced teacher who listens and cares, without the hassle of having to leave your home!