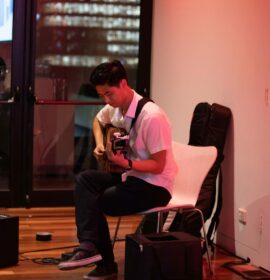 Carlingford, Sydney

Mon, Tue, Wed, Fri

:

09:00 to 21:00

Styles Taught:

Fingerstyle Guitar, Jazz Guitar, Blues, Ukulele

Home Lessons Available?:

Yes. up to 25km (rates vary depending on distance traveled)
PRIVATE CONTACT
CONTACT US
Hills District Private Guitar Lessons
Stuck in a rut with your playing? Want to try a new modern style of guitar playing? Want to play your favourite tunes from Michael Jackson to Ed Sheeran but don't know where to begin? Could this monologue BE anymore cheesier?  With over 15 years of experience, Brian Zhang's Fingerstyle Guitar School offers a new and modern approach to playing and learning the guitar that is suitable for all players regardless of age, gender, cultural background or level of experience. Whether you are looking to improve your technique, expand on your current repertoire, go in a new direction with your playing, or even if you're just starting out and wanting to work out what you want to focus on, "Fingerstyle Guitar" will completely change the way that you not only view how the guitar is played, but your entire perspective on music. Through a mixture of one on one private lessons, group workshops, collaborative live performances, and online lessons, Brian Zhang's Fingerstyle Guitar School is on a journey to empower infinite musical possibilities amongst their students and the wider community.
Topics that will be covered during lessons include: 
– How to read chord charts, tabulatures and traditional notation 
– Left and Right hand positioning
– Strumming/Flatpicking
– Fingerstyle 
– Extended Techniques (e.g. harmonics, thumb independence, tapping, slapping & percussion) 
– Developing sense of rhythm, groove, dynamics, and musical expression. 
– Developing creativity, emotion and musical interest
– Ear Training 
and how to incorporate all this into an original composition or original arrangement. 
Specials / Deals
6 lessons for the price of 5
6 lessons for the price of 5
Perfect for those who:
– want to trial lessons for the short term
– want to take on lessons in infrequent increments (e.g. once a month)
Package deals are as follows:
– 6 x 1 hour lessons for $250 (Usually $300)
– 6 x  1& 1/2 hour lessons for $375 (usually $450)
Package deal conditions are as follow:
– payment of deal must be paid upfront 24 hours prior to first lesson.
Carlingford, Sydney
,
Sydney