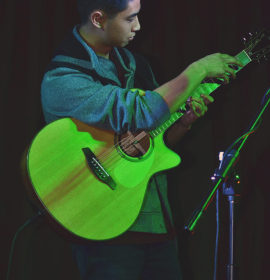 Carlingford, Sydney

Mon, Tue, Wed, Fri

:

09:00 to 21:00

Styles Taught:

Modern Acoustic Guitar, Fingerstyle, Blues

Home Lessons Available?:

Yes. up to 25km (rates vary depending on distance traveled)
PRIVATE CONTACT
CONTACT US
Hills District Private Guitar Lessons
My name is Brian, I teach in the Hills District of Sydney and surrounding areas. I'm a musician that belongs to a small, but booming community and scene of "modern acoustic fingerstyle" guitarists all around the world. Essentially, modern fingerstyle guitar is the incorporation of extended and rather unorthodox playing techniques on the acoustic guitar including slapping, tapping, as well as hitting the body of the guitar to create different percussive sounds. All these techniques are blended in together to create all elements of a song (bass, melody, rhythm, drums) into the one solo arrangement. This allows me to approach playing the guitar and music holistically, allowing me to adapt and change to all types of genres, styles and situations whenever needed!
Since graduating high school in 2015, I've turned my attention to pursuing music full time and living the dream. Having spent the last three years meeting other musicians from around the world, I have seen what music can do for people from all walks of life.
Teaching guitar has quickly become a burning passion of mine over the last four years and for me, it is my way of giving back to the world of music and showing as many people as I can the beauty, that is music.
Regardless of what your level is whether you are an absolute beginner or virtuoso (well you wouldn't need me if you were a virtuoso!), and your taste in music whether you listen to jazz, hard rock, metal, pop, electronic, dance, blues or country, each lesson will be specifically set out to your tastes, interests, ambitions, goals and ability. I teach all people of all levels, from absolute beginners to advanced levels, so don't think you need to be the next Jimi Hendrix, Eddie Van Halen or Tommy Emmanuel to pick up the guitar (unless if that's what you're aiming to achieve!)
Topics that will be covered during lessons include:
– How to read chord charts, tabulatures and traditional notation
– Left and Right hand positioning
– Strumming/Flatpicking
– Fingerstyle
– Extended Techniques (e.g. harmonics, thumb independence, tapping, slapping & percussion)
– Developing sense of rhythm, groove, dynamics, and musical expression.
– Developing creativity, emotion and musical interest
– Ear Training
and how to incorporate all this into an original composition or original arrangement.
Lessons start at $50/hr – Rates will vary depending on the distance I have to travel to get to you. I can travel 25km throughout the Hills District and Sydney
For further information and inquiries about booking lessons, please contact me via mobile or email.
Specials / Deals
6 lessons for the price of 5
6 lessons for the price of 5
Perfect for those who:
– want to trial lessons for the short term
– want to take on lessons in infrequent increments (e.g. once a month)
Package deals are as follows:
– 6 x 1 hour lessons for $250 (Usually $300)
– 6 x  1& 1/2 hour lessons for $375 (usually $450)
Package deal conditions are as follow:
– payment of deal must be paid upfront 24 hours prior to first lesson.
Carlingford, Sydney
,
Sydney