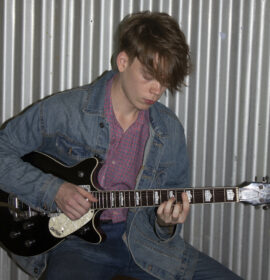 128 Warren Rd, Marrickville

Price:

$50 for 1 hour, $30 for 1/2 hour

Styles Taught:

Progressive rock and metal genres, 20th century rock/blues

Home Lessons Available?:

Yes, no extra charge if you live within 15mins of me, otherwise an extra charge of $5 applies to houses up to 30mins away.
CONTACT TEACHER
Marrickville Guitar Lessons
Guitar lessons in Marrickville and the inner west of Sydney. I'm currently a conservatorium student (composition), looking to pass my knowledge on to others. I've been playing guitar and bass for 10 years and have had numerous tutors along the way. This tutition alongside practice led to opportunities in bands (one of which i recorded an Ep with, the "Nagging doubts") and after much theoretical study, a position in the Conservatorium (currently sitting at a 80% grade).
Lessons will focus on teaching and refining techniques with the aid of a song (with transcription) thats alines with the genre you or your child wishes to persue. The Genre's i'm experienced in include; Progressive Metal/Rock and 1900's rock and blues (including 2000s adaptions, Philip Sayce/Gary Clark.Jr).
Please contact me if you are looking for guitar lessons in Marrickville and the inner west of Sydney
Tobias