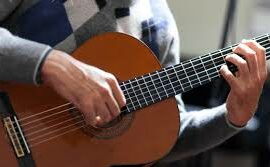 Abbotsford Cove Drive

Price:

$45 half hour $ 90 per hour

Styles Taught:

Classical and Contemporary

Home Lessons Available?:

Yes home lessons no extra charge in 10 km raduis
PRIVATE CONTACT
CONTACT US
Abbotsford Guitar Lessons

Abbotsford Classical and Contemporary Guitar
Learn with the " Playercise Method" ™
The guitar fretboard is daunting for most players especially for students and those stuck in learning rut. I have developed the " Playercise Method" ™ to help students learn with ease all the notes and positions on the guitar fretboard. Learn where every note is placed and importantly how to remember each note in multiple positions of the fretboard.
With my technique of coaching I provide students and players with a method that helps overcomes repetitious exercises that lead to frustration.
My "Playercise Method"™ has been composed to advance your guitar technique and progress to higher grades in less time. After all, your time is precious and it's much nicer to spend more time enjoying your playing than agonising over time consuming practice that is of little benefit.
If the "Playercise Method" ™ sounds like it might suit you and be a part of your guitar studies please make contact.
Happy playing, Greg