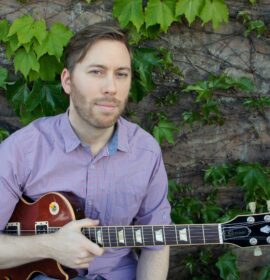 43 Wyndham Street Alexandria

Price:

1 hr = $80 1/2 hr = $40

Styles Taught:

Rock, Blues, Jazz, Pop, Folk, Lead, Rhythm, Fingerpicking, Classical.

Home Lessons Available?:

No
PRIVATE CONTACT
CONTACT US
Alexandria Guitar Lessons

Hi, my name is Lucas I teach in Alexandria and am an experienced guitar teacher and musician of 25+ years.
I have a strong passion for playing and teaching including a sound knowledge of the instrument across a broad range of styles.
I currently teach from my home studio in Alexandria, (located conveniently between Redfern and Green Square stations) , including online lessons via Zoom. 
The lesson environment is relaxed and air conditioned with guitars available in case you can't bring your own. Recordings/video and reference material is provided to make your practice time enjoyable and productive.
All lessons have an agreed approach catered to each students individual requirements.
Lessons can include learning songs, Improvisation, musicology, songwriting, theory, building repertoire, preparation for HSC/University entry including supplementary tuition supporting various study curriculums. Most of all, having fun and being creative!
Beginners to advanced levels welcome.
Adults all ages welcome.
Kids Ages 12+
Current WWC certificate available.
I look forward to helping guide you on your musical journey 🙂