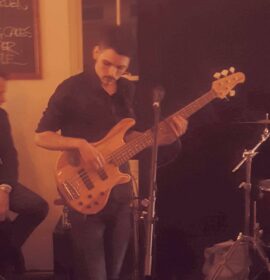 Croydon Park

Home Lessons Available?:

Yes that will be no issue. Granted location is reasonably accessible
PRIVATE CONTACT
CONTACT US
Bass Guitar Lessons Inner West
I teach bass guitar in the inner west of Sydney and have been a professional bass guitarist for over a decade playing with many talented musicians crossing multiple genres including but not limited to Pop, Blues, Jazz, Rock and Folk.
I have been tutoring since 2014 with high school students with them usually being complete beginners working with them all the way up to the stage of them becoming exceptionally skilled musicians in their own right. When I teach my students, my goal is for them to be unique and not carbon copies of any other bass players including myself.
In 2016, I completed my Advanced Diploma in Music Performance excelling in crucial areas including musical theory, practical improvisation as well as communication.
I love nothing more than seeing enthusiastic musicians reach their full potential and have fun along the way. If you are wanting to excel in any facet of the bass guitar, whether you are a beginner that's not sure where to start, or a seasoned pro who is looking to excel even further, I'm definitely the person to help you reach your potential.
Ethan