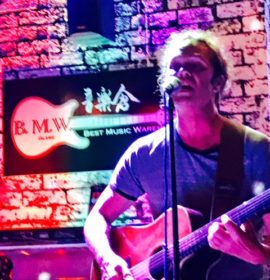 270 Bondi Rd Bondi NSW 2026

Price:

4 x 30min lessons for $160 / 4 x 60 min lessons for $320 - inc study material & recording

Styles Taught:

Pop, Rock, Jazz, Blues, Folk

Home Lessons Available?:

no
PRIVATE CONTACT
CONTACT US
Bondi Guitar School
David teaches from his studio in Bondi with a fun and effective guitar method to maximise results, develop your own style & get you playing songs and improvising  quickly and effectively.
ON LINE SYKPE LESSONS AVAILABLE
Choose the songs you want to learn – Rock – Pop – Jazz – Blues.
Develop a repertoire / electric and acoustic – pick and finger style techniques.
Singer songwriters,
Song craft,
Stagecraft,
Vocal & Mic technique
Lessons tailored to all levels and standards of musical ability – Kids from 12 years to adults
ONLINE SYKPE LESSONS AVAILABLE
Private studio entrance
Easy on street parking
Lift or stair access

Fun and effective guitar lessons in a relaxed environment in Bondi

David
Specials / Deals
Package deals
4 x 30min lessons for $160 / 5 x 60 min lessons for $320 - inc study material
4 x 30min lessons for $160 / 5 x 60 min lessons for $320 – inc study material
270 Bondi Rd Bondi NSW 2026
,
Sydney