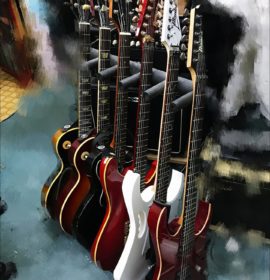 19 burwood road, burwood, NSW

Price:

180/4 class, per 1 hour

Styles Taught:

Pop, Blues, Rock, any metal

Home Lessons Available?:

Yes, please pm me!
CONTACT TEACHER
Burwood Guitar Lessons
Professional Electric (Acoustic) Guitar and Ukulele Teaching in Burwood and the inner west of Sydney
From Hong Kong.
11 years of guitar performance and 5 years of extensive guitar and ukulele teaching experience in AU and Overseas. 
Rockschool RSL Level 3 Certificate Electric Guitar Certificate Grade 8. 
Student of Australian Institute of Music. Many years of personal and band performance and competition experience.
Detail:
1. Various guitar playing styles: Pop, Blues, Rock, Heavy Metal
2. Various Guitar Skills: picking, tapping, bending, mute …
3. Mainly difficult techniques: Hormonic, Sweeping, String skipping, Full picking techniques …
3. Familiar with various masters: John Petrucci, Paul Gilbert, Marty Friedman …
4. Various guitar knowledge and technology sharing: Amp, Pedal, Kind of Guitar style…
Course:
1.Teaching range from beginner to advanced to improve technical level
2. Grade 1 to 5 knowledge of music theory, Grades 1 to 8 examination tracks, various songs playing
3.Teaching emphasizes strength and results, and is not sloppy
4. Welcome different peoples who from diiferent countries
For one hour per lesson:
Beginner and Acoustic: $180/4 lessons
Intermediate: Class $220/4 lessons
High level: 65 per hour
Coordinates: Burwood and Central, negotiable to travel
Simon