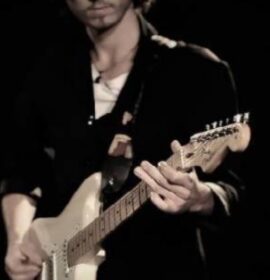 108 Cronulla Street, Cronulla

Price:

$35.00 per half hour (Skype Lessons available for 12 years and older)

Styles Taught:

Most styles are taught

Home Lessons Available?:

no however Skype Lessons available for 12 years and older.
PRIVATE CONTACT
CONTACT US
Cronulla Shire Guitar Teacher

UPDATE: SKYPE GUITAR LESSONS NOW AVAILABLE FOR 12 YEARS & OLDER
Follow your passion- learn to play the guitar and ukulele. I offer personalised tuition for all ages and all levels I can teach you the songs you like and make your lessons fun I teach in my studio on main Street of Cronulla. I have a Diploma of Music.
'One of Sydney's Hottest Young Guitarists'
Bryce's Shows have been drawing huge acclaim from audiences here in Sydney, and worldwide on the Web (with International Talent Agencies posting acclaim). Bryce, Shire boy in Cronulla, has established himself as ONE OF SYDNEY'S HOTTEST YOUNG GUITARISTS, exploding onto the Live-Music Arena two years ago.  At only 23, has already performed many Headline and Support Shows with his Band at Sydney's Highest-Profile Music Venues and Clubs.
Bryce has also supported and played alongside Sydney's Top Guitarists, including THE Sydney 'Guitar Legends' Ray Beadle and Peter Northcote.  (This is, of course, testimony to Bryce amazing talent on Guitar.)
Bryce belies his young age in so many ways, by his outstanding 'World-Class' ability on Guitar and ukulele and his unique Vocals, combined with his professionalism, passion and dedication.  Bryce has already attracted the attention of Sydney's leading Music Producers and was Finalist in 2012's 'musicoz' with his Instrumental song 'Adrenaline', and is once again competing in 2013 with three of his songs. Bryce finished in the top 5 Finalist just recently in the 2013 musicoz awards.
Bryce recently performed at the Sydney Blues & Roots Festival at Windsor.
Specials / Deals
$20.00 1st Lesson
$20.00 1st Lesson
Introductory lesson for just $20.00
108 Cronulla Street, Cronulla
,
Sydney