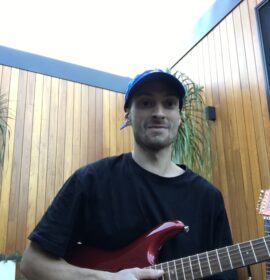 81 Cary st Marrickville

Styles Taught:

Rock/heavy metal

Home Lessons Available?:

Yes $10, within 5 km
CONTACT TEACHER
Electric Guitar Lessons Marrickville

Professional guitar lessons in Marrickville, Newtown, Tempe, Earlwood, Sydenham, Dulwich Hill, St Peters, Wolli Creek, Canterbury, Redfern are some of the suburbs within my easy reach.
All you'll need to know to become a complete guitarist and to be self sufficient in finding your own way in what&how you practice in the long run when you won't need to be taught by a teacher to make progress anymore.
I'll create well-tailored exercises for you from universally recognised methods of which exercises will be accompanied by matching sections of all-time great songs. (We'll play many great songs, especially once you've made some progress)
I'm an experienced teacher (and structural engineer) who has a huge repertoire and also plays in a band (you'll be welcome to join rehearsals now and then to play some songs in a full band once you get there)
During week, we can do the class at your place or in my home studio – with great equipment, that'll be quite unusual to be used in tutoring:) – in Marrickville South. You'll only need to bring your own guitar if possible.
On weekends, I can teach you at your home provided that you live within reasonable distance. I'll be bringing along my guitar and a Yamaha thr5 in this case, so I'll strongly recommend that you have your own equipment ready then (I'm sure you'll have that, considering you've already set out on this journey)
We'll be covering all you need (reading music, all necessary techniques, music theory, mastering scales, improvisation…) but don't be intimidated. We'll go through all that, step by step. What you'll need to accomplish from one class to the next will make it feel like it's a quite smooth sailing as long as you do your reasonable amount of daily practice. Once we build that habit, you'll see that practice is just an simple natural process to climb those steps toward this awesome goal (varies from one person to another, but generally i'd say, the goal is being able to play whatever you want to). If you are looking for lessons in the inner west of Sydney or from my professional studio in Marrickville then don't hestitate to contact me
Students of all levels and ages are welcome (I have WWCC)
Looking forward to hearing from you
Holden