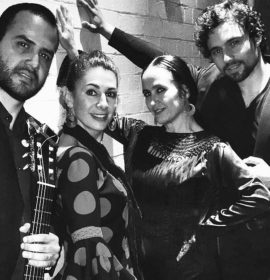 6 Bay Street, Botany

Price:

$70/h for casual lessons and $60/h for a bundle of 4 lessons ($240) to be completed in a 4 week period.

Styles Taught:

Fingerstyle (Sungha Jung), flamenco, acoustic covers

Home Lessons Available?:

Extra $10
PRIVATE CONTACT
CONTACT US
Fingerstyle Flamenco Guitar Lessons Sydney
Flamenco guitar lessons Sydney and fingerstyle acoustic in the Botany and CBD areas of Sydney,  pretty much like Sungha Jung style.
I'm a touring flamenco guitarist who has played with renowned artists from South America and Europe (Spain and France). I love teaching and encouraging my students. I'm part of a flamenco band and play weekly.
A huge variety of techniques have allowed me to uncover the world of acoustic covers, where you play melody,  rhythm and percussion all in the one guitar. I play in 2 duets doing exactly that.   Please feel free to contact me to discuss all your musical desires and ambitions.  I take great interest in helping my students achieve their goals
$70/h for casual lessons and $60/h for a bundle of 4 lessons ($240) to be completed in a 4 week period. 
Hope we can meet soon we can team up to reach your guitar goals. 
Jonathan
Specials / Deals
4 lessons for $240
4 lessons for $220
4 lessons to be finished in 4 weeks Maximum for $240.
6 Bay Street, Botany
,
Sydney