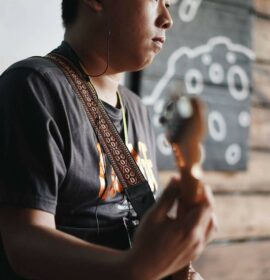 6 Kaluna St, Putney, Sydney

Mon, Wed, Sun

:

18:00 to 21:00

Tue, Thu, Fri, Sat

:

18:30 to 21:30

Price:

$35 half hour, $50 for hour

Styles Taught:

pop, fingerpicking style, rock, metal, punk

Home Lessons Available?:

yes - 50c per km
PRIVATE CONTACT
CONTACT US
Gladesville Guitar Lessons
So I teach the guitar from my home studio in the Gladesville / Putney area, and I've been playing guitar for about 12 years (both on the electric and the acoustic). I'm mostly self-taught, until about two years ago, where I took some lessons in order to obtain a certificate for the AMEB Rockschool Grade 7 Electric Guitar exam. I've also been teaching the guitar (mainly acoustic, sometimes electric) at an art and music school called Discovery Art & Music for about 4 years, as well as occasional private lessons at my home studio in Gladesville / Putney or at the student's home, depending on each other's convenience. I mainly teach from my home studio in Gladesville, usually teaching them some basic open chords, strumming patterns, fingerpicking patterns, etc. of songs that they want to learn, sometimes some theory if needed. On the electric guitar, I teach mainly beginner to intermediate levels, for example, different types of scales and arpeggios, improvisation, different guitar techniques (like bending, hammer-ons, pull-offs), etc. I've also once helped a student prepare a performance of him singing a song whilst playing guitar in front of an audience; as well as assisting another student in passing his guitar exams for AMEB Rockschool.
Secondly, I've graduated with a degree in Composition & Music Production at the Australian Institute of Music (attended from the end of 2015 to mid-2019). Because of that, I have great knowledge with regards to composing, arranging, and producing music in a diverse range of genres, as I have produced music both for myself and other people's projects such as animations, such as a few that I've done with students at AIE (Academy of Interactive Entertainment) in 2018. I've also done some film scoring work for a few student films in Macquarie University, as well as doing some musical arrangement and production work for a cancer charity organization called CanCare. 
If you are looking for Acoustic/Electric Guitar lessons in the Gladesville / Putney area, please do not hesitate to contact me.
Henry