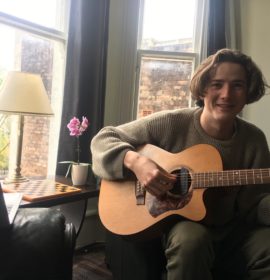 361 Glebe Point Road

Price:

$60 for one hour, $40 for half hour.

Styles Taught:

Acoustic, electric, classical, jazz, rock, folk, etc.

Home Lessons Available?:

Yes, local to the Glebe area if possible.
CONTACT TEACHER
Glebe Guitar Lessons
My name is Patrick and I'm a passionate musician who'd love to teach you the guitar in Glebe and the neighbouring suburbs. My main goal is to make learning the guitar a fun, productive and personal experience; encouraging confidence in your musical ability!
I currently study a Bachelor of Music at the University of New South Wales, and have both a practical and theoretical foundation in guitar. Most importantly, I want to make you the best guitarist you can be!
I offer half hour or 1 hour sessions.