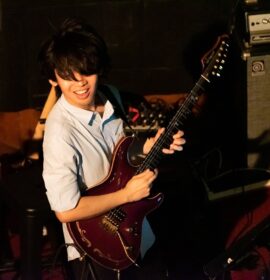 30-34 Churchill Aveune, strathfield

Tue, Wed, Thu, Fri, Sun

:

None

Price:

$70 for 1 hour, $40 for 1/2 hour

Styles Taught:

Rock, Metal, Funk, Pop, Blues, little bit of Jazz and World Music

Home Lessons Available?:

Yes in Homebush, Flemington, Burwood and Corydon. $15 extra
PRIVATE CONTACT
CONTACT US
Guitar Lesson in Strathfield Burwood
My background:

I am a Sydney based guitarist and violinist in Strathfield / Burwood area. I graduated from Australian Institute of Music and I also underwent formal classical violin training in the Royal Birmingham Conservatoire in England. I studied with Matias Kupiainen (Stratovarius), Jason Kui (Hong Kong solo guitarist), Mark Johns and so on. Now I play with my band Defiant Dawn and I play with different musicians.

I won the Parsons Music Festival POP Guitar Competition in Hong Kong at 2015 and I worked with musicians from Sydney, Hong Kong, China and United Kingdom.

I have 8 years of teaching experiences in Australia, United Kingdom and Hong Kong. My students varies from kindergarten kids to elderlies; beginner to advanced level.

Lesson Contents:

I believe learning music should be fun. Sometimes learning music can be overwhelming but I will be breaking the steps and concepts in to small bits and pieces. Thus making sure that my students learn effortlessly and eventually finding the joy and goodness in music.  My guitar lesson focuses on various styles/genres of music, different guitar techniques (left and right hand), improvising, music theory and so on. I have collected countless scores and notes throughout the years of learning music and I will be using them in my lessons. For kids (aged from 5-9) )we will be using the Progressive Guitar Method for Young beginners. Afterwards we will be working on the Rockschool syllabus. Lastly I am flexible of what I teach in a lesson as students have different interests and needs.
Location and more: My home studio is located just 2 minutes away from Strathfield burwood train stations

In addition to Electric and Acoustic Guitar lesson I also offer violin, AMEB Theory (Classical and Contemporary) and musicianship/ear training lesson. If you are interested in lessons in the Strathfield Burwood areas then please don't hesitate and contact me.