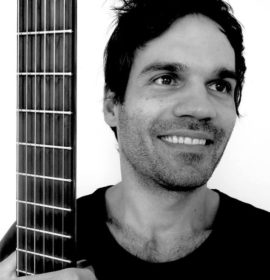 Gould St, Bondi Beach, Sydney

Teacher Name:

Daniel Amalm

Styles Taught:

Classical/Spanish, Flamenco, Fingerstyle Jazz, Acoustic Blues/Rock, Improvisation, Looping.

Home Lessons Available?:

Yes within 5km
PRIVATE CONTACT
CONTACT US
Guitar Lessons Bondi Beach

Discover the art of unplugged guitar in Bondi Beach and build a solo repertoire along with improvisational skills you can enjoy for years to come. Beginner to advanced. All ages are welcome! I teach Classical, some Fingerstyle Jazz, a little Flamenco, Electric Blues, and Rock with a strong emphasis on improvisation. 
My goal as your tutor is to help you attain a higher level of freedom of expression on your instrument. As a solo performer, my niche is within 'electronic-influenced' improvised looping with effects.
I also perform as a live soloist with electronic DJs. For students looking for something completely original in terms of tuition, I can offer techniques, approaches, and interesting uses of effects that work within electronic music.
My lessons are in-depth, relaxed, and fun, with a laser focus on technique and the use of dynamics to drive your playing to the next level. Another key component to developing your ear and musicianship is through jamming – which we'll do a lot of. 
Basic theory will be thrown in for good measure but not bog you down. It's the playing we're set to improve. 
Training/Education  Studied at the Queensland Conservatorium of Music under renowned classical guitarist Julian Byzantine. Distinction (honors) in levels 1-6 for Classical Guitar Trinity College of Music London.
Past teaching Experience Forte Music School (Brisbane, Australia). Inna Koogan Music School (Brisbane, Australia). Shine School of Guitar (Barcelona, Spain). California Music Studios (Los Angeles, USA).
Currently teaching full-time at Kambala Rose Bay so afternoon lessons and school holiday inquiries only, please. 
Check out my music releases on Spotify and iTunes!
GUITARED (2019) Daniel Amalm (solo guitar EP)
KALDERA (2020) Kaldera (progressive flamenco)
Look forward to hearing from you. Happy playing!