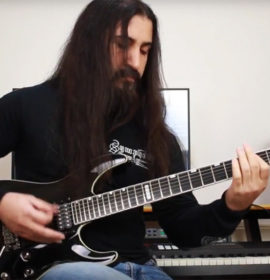 522-524 Pacific Highway Mt Colah

Price:

$75 p/h. $42 1/2 hour

Styles Taught:

Rock, Metal, Pop, Blues

Home Lessons Available?:

yes, $10+ for home lessons.
PRIVATE CONTACT
CONTACT US
Guitar Lessons Hornsby / Mt Colah
Hi, I'm Aydin, professional guitarist and private guitar tutor based in the Hornsby area, Sydney, Australia.
I first started playing guitar at the age of 12, and started pursuing music seriously at 17 when I purchased my first Electric Guitar. I studied Jazz at the Conservatorium of Vienna in Austria, and have released multiple albums since 2011. While I am classically trained and passionate about Progressive music, I have never stopped learning new styles and techniques to improve my craft and creativity. This not only allows me to pass on the knowledge to my own students, but also led to professional studio sessions for many different work projects from Pop to Death Metal. I first started teaching in the early 2000s and have seen my students gain admission to the Conservatorium, record studio albums, and perform live on stages. Whatever your guitar dreams are – you and I are going to work on defining your goals, and we will work together to achieve them.
Why take private guitar lessons with me?
I believe in a personal approach to guitar tutoring, and take great joy and pride in helping my students grow as guitar players. At my Hornsby studio I teach a thorough understanding of music theory, guitar techniques, and music performances to help my students achieve their goals. I'm passionate about breaking down complex techniques and explain them as simple as possible for my students to understand. I learned that patience in tutoring is critical, and will happily answer as many questions my students ask.
My personalised approach to tutoring:
I believe each individual is different, and I'm flexible in my teaching and coaching methods. I don't think forcing a generic curriculum on everyone is going to lead to success. There are books that I recommend to students that we'll go through together, as well as personalised lessons and exercises I write for each student. Most of the books I recommend and play with my students are from Berklee Press, which I can highly recommend.
My students also gain access to a personal Dropbox in which I upload videos of exercises and songs so they have a reference at home. I also include exercises and backing tracks that I create for them to play along.
I will happily answer questions via email or text between lessons and if needed I will even record videos for them. Bottom line, I am always here support you.
I have students as young as year one to retirees who decided to learn to play guitar for the first time. Please note that I don't teach to children under the age of 7. I do hold a Working With Children certificate.
As a private guitar tutor, I specialise in:
Beginner lessons
Advanced guitar techniques
Child, youth, and adult classes
Music theory and how it applies to your guitar playing
Making the jump from playing simple classics to complex songs
Basic Jazz theory
Pop, Rock, Metal, and Progressive
Learning basic improvisation, and moving to an intermediate level
Songwriting for Pop, Rock, and Metal
Playing Acoustic Nylon Classical Finger-Style
Playing the Acoustic Steel String
Playing the Electric Guitar
Electric Bass Guitar
Things I cannot help you with are advance counterpoint and Harmony, or advance Jazz and Fusion improvisation or composition. (Still working on it, someday I may be able to offer lessons in this category as well) percussive acoustic guitar playing.
To book your first private lesson at my Hornsby studio, or learn more about my approach to helping you learn to play the guitar, please send me a private message here.  I believe it doesn't matter what your age or skill level is, as long as you want to improve your performance or knowledge. I'm here to help.
Cheers,
Aydin