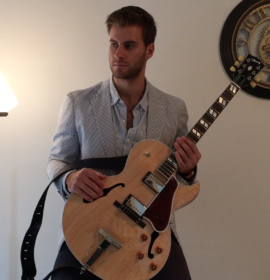 3 Darling Point

Mon, Thu, Fri, Sat, Sun

:

09:00 to 06:00

Price:

1 hour-$80 1/2 hour - $50

Styles Taught:

Jazz, metal, blues, classical,

Home Lessons Available?:

Yes, Willing to Travel 2 km for $20 extra
PRIVATE CONTACT
CONTACT US
Guitar and Singing Lessons Darling Point

Guitar Lessons and Singing Lessons in Darling Point and the eastern suburbs of Sydney in all styles, from personal hobby to professional musician, Year 7 music tutoring to Year 12 HSC

Guitar Lessons are structured around the student's wants and needs – whether they want to play Wolfmother or Beethoven, for school or personal interest. They focus on giving you a solid foundation for proper technique and music theory, blending the two to allow you to play and create whatever they desire. My goal is to teach you to be able to teach yourself.

Singing Lessons are structured around the Swedish-Italian Method, which is focused on teaching proper open throat technique, allowing for growth and development in any voice. I focus on developing a rich quality to the voice throughout the whole range. This method heals voices that have had years of strain or misuse, and increases the range of the voice while giving you the tools to keep your voice safe. The technique increases stamina of the vocal cords, range, projection, quality throughout the entire range.

John has a Bachelor of Arts, majoring in Music Studies from UNSW and is currently completing a Bachelor of Music – Improvised Music at University of Sydney Conservatorium of Music. John's method of teaching revolves around passion mixed with knowledge and allowing the student to play with the information given. With a vast depth of understanding of music theory and performance technique, he can identify his students' areas of strength and weakness and address them accordingly. Each lesson is tailored around the individual, whether they are wanting to learn Jazz, Metal, Opera, Classical, Rock, Blues, AMEB, Music Theory, HSC Music Extension or HSC Music 1 or 2. He Currently focuses his lessons from his professional studio in Darling Point.

Patience and humility are important aspects to have as a teacher, and he appreciates people's diversity when teaching. He listens to the student's needs and lets them develop at their own pace. His main focus is on nurturing creativity and passion for music over short term results.