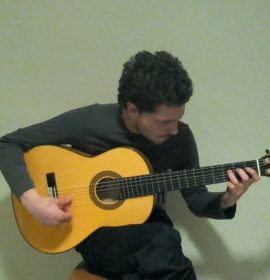 Mears Ave Randwick

Price:

60 per hour, 30 per half hour

Styles Taught:

Every guitar style for electric, acoustic and classical guitar for any level.

Home Lessons Available?:

Yes, does not matter how is it far. 70 per hour, 40 half hour
PRIVATE CONTACT
CONTACT US
Eastern Suburbs Guitar Lessons

I'm Vincenzo. I teach in my Studio in Paddington and in the Eastern Suburbs area of Sydney and can travel further for lessons. I am a Italian flamenco and jazz professional guitarist.
I have a good international experience as a professional musician as a guitar teacher, playing guitar since I was 12 years old. I have played any kind of music with guitar, starting from rock and metal stuff to to jazz and flamenco/classical genres. I could teach you any kind of skills for any kind of styles and guitar types.
I'm very friendly and funny guy who loves to stay in touch with people. I worked with a few cultural associations to organize any kind of parties: I worked with kids for theatrical reading shows, cultural events and dining events. I think this could be a great opportunity for me to extend my international experience working here in Sydney and for you is a good chance to have a foreign professional musician-teacher. Experience, professionalism and social skills. If you are look for this kind of a teacher I'am that one.