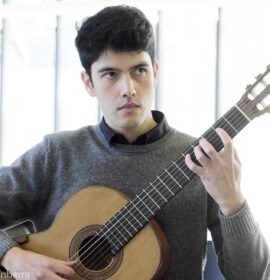 Llewellyn Street Marrickville

Price:

80 per hour / 45 per half hour

Styles Taught:

Classical, Popular, Contemporary

Home Lessons Available?:

Yes, depending on distance.
PRIVATE CONTACT
CONTACT US
Guitar Teacher Inner West
Hello there! I invite you to learn  with me, a professional guitarist who performs regularly and is based in the inner west of Sydney. I have over a decade of experience helping students in the Sydney area of all levels and ages achieve their goals on the guitar. Styles taught are Classical, Popular and Contemporary.  In your guitar lessons with me, you'll follow a structured approach and develop the areas of technique and musicianship through enjoyable, interesting and varied guitar repertoire. Many of my students opt to do exams through the AMEB program, but I also encourage those seeking to learn for leisure without external pressures.
My main teaching objective is to nurture each student's unique musical aspirations in a fun, engaging and rewarding way. Behind all this lies the necessary musical skills that I can offer you (such as learning how to read notation/chord charts, refining your sense of rhythm, developing a comfortable and fluent technique etc. ?

I offer lessons in the inner west of Sydney focusing on the Newtown and Marrickville areas. lessons are offered by a term-by-term basis and may be able to come to you if you live locally. I also teach from a music studio in Randwick. 
Ariel.