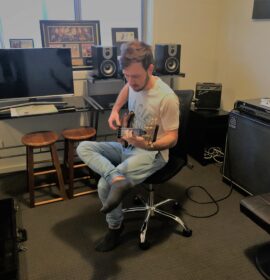 24 Corona St Box Hill

Price:

1/2Hr = $50 1Hr=$60 - Discounts available for bulk purchase

Styles Taught:

Bass: Any and all styles - Guitar: Rock and Metal

Home Lessons Available?:

Yes, price negotiable depending on distance.
PRIVATE CONTACT
CONTACT US
Hills District Guitar and Bass Lessons
Hi, I'm Ben! I teach in and around the Hills District of Sydney. I've been playing bass guitar for over 15 years and performing live gigs since the age of 14. As well as my many years experience in performance, I have also completed a Diploma of Sound Production. I have a solid understanding of bass guitar fundamentals as well as advanced techniques (slap, double thumb, percussive techniques). I have a vast array of equipment at my disposal (please refer to photos), for both bass guitar and electric guitar.
I'm comfortable teaching all levels of bass guitar, from absolute beginner to more advanced players. I am also happy to assist students with HSC performance pieces to help achieve the students goals.
My focus is on enjoying the instrument and learning to play the music that you want to learn without over complicating things with too much theory! I am located in The Hills District and can travel to you, although I would recommend coming to the facilities that I offer due to the equipment that is available.