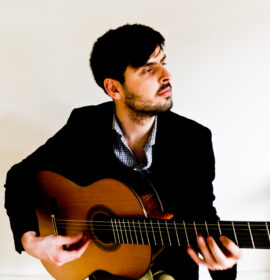 Battersea St, Abbortsford

Price:

$100/hour $50/30min

Teacher Name:

Leonard Grigoryan

Styles Taught:

Classical, Improvisation

Home Lessons Available?:

Yes
PRIVATE CONTACT
CONTACT US
Inner Sydney Guitar Lessons
Leonard teaches from his Inner Sydney studio in Abbortsford and is a professional musician with over 20+ years of performance and teaching experience.
He is passionate about teaching the classical guitar but is well versed in a number of styles including classical/jazz/contemporary. He is also passionate in developing individualised lessons as every person absorbs information in a unique way. Alongside learning to play the guitar, Leonard also teaches music theory and ear training and makes this process of learning as intuitive as possible. Beginners and advanced players are welcome.
Please feel free to contact at any stage for guitar lessons in the inner Sydney / Abbortsford area.