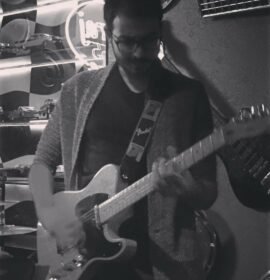 204/64 Charlotte Street, Campsie NSW 2194

Styles Taught:

Rock, Pop, RnB, Soul, Funk, Classical, Acoustic, Music Production

Home Lessons Available?:

Yes, negotiable price depending on the distance.
PRIVATE CONTACT
CONTACT US
Inner West Guitar Lessons
Guitar lessons in the inner west. I have started learning classical guitar at the age of 8. After 2 years of classical music education I started learning chords, playing and singing songs. With a Turkish background, I have played Turkish music a lot in younger ages then added many genres to my repertoire as I had gigs with various bands. I have also educated myself on music production; recording and mixing on Ableton.
I can offer a variety of topics to teach; from beginner to advanced where you can develop yourself and add new techniques to your arsenal. Most importantly, I will aim to let you enjoy playing music.
I am located in Campsie but able to drive to a reasonable distance around the inner west.
Furkan