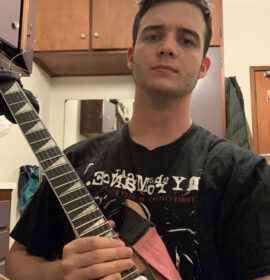 5 Wetherill Street Leichhardt

Price:

$60 hour lessons, $40 half hour lessons

Styles Taught:

Rock, Pop, Metal, Improvisation, Composition, Arranging

Home Lessons Available?:

Home lessons available with negotiable rates according to distance.
PRIVATE CONTACT
CONTACT US
Leichhardt Guitar School

Hi, I'm Nick, a musician in Leichhardt guitar school and teach around the Inner West of Sydney. I teach guitar and bass from beginner to advanced levels from my small studio in Leichhardt. I'm passionate about many styles of music, having focused on technical rock and metal playing as a teenager, later developing a love of classical composition and songwriting in pop and folk music.
I achieved a band 6 in HSC Music 1 in performance and composition, and I've taught students of a variety of levels from a variety of backgrounds. I strongly believe in an individually tailored approach to music tutoring, I've had students whose lessons with me consisted of trading blues licks back and forth to practice improvisation, and students whose lessons took place away from the guitar, working on composition on a computer. Amps, electric and acoustic guitars and a bass are all available for use in our lessons.
Whatever your interests are, I'll be happy to help you on your journey.