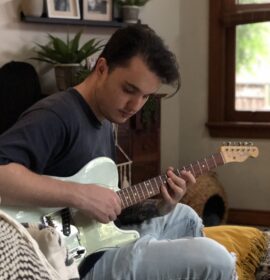 254 Pacific Highway, Lindfield

Price:

$50 for one hour and $35 for 1/2 an hour

Styles Taught:

Pop, rock, blues, funk, jazz, R&B

Home Lessons Available?:

Yes, $5 extra
PRIVATE CONTACT
CONTACT US
Lindfield Guitar Lessons
Ethan is based on the North Shore of Sydney in Lindfield,. He is a guitar player who teaches lessons along the north shore and surrounding areas in Sydney also.
He is currently studying his Bachelor of Contemporary Music, Majoring in guitar. Ethan can teach basic to intermediate guitar skills, and can teach but not limited to; pop, rock, jazz, blues, funk and R&B.
He will personalize the lessons to help you achieve your goals and ambitions. He will be happy to come to you as well as offering lessons from his home studio in Lindfield.