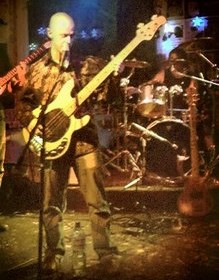 433 Marrickville Road, Dulwich Hill

Price:

$60 per hour flat rate

Styles Taught:

Latin, Jazz, Funk, Blues, Rock, Metal, Reggae, Progressive (all)

Home Lessons Available?:

yes, within 5km for $10+ (depending on distance)
CONTACT TEACHER
Marrickville Bass Guitar Lessons

Bass Guitar lessons in Marrickville and the inner west of Sydney. Want to learn to play bass confidently and have fun? Want to improve your technique and theory? Taken lessons before but feel like you are still missing something?
Learn technique, theory, and concept development with an experienced live and session musician.
Stuart has been teaching for 10 years professionally and have more than 20 years of experience as a musician. He uses what he knows on a daily basis to collaborate, compose and improvise in various situations both live and in the studio and he looks forward to passing what he knows on to you.
His teaching methods will ensure that you learn what is relevant to you as a player so that you can use what you learn in a practical sense. He Doesn't just teach you a bunch of scales that you will be left wondering how to use, He will give you the tools you need to play confidently and have fun in any situation.
He caters to students from beginner to advanced and cover all styles, including rock, blues, jazz, funk, metal, and Latin. Advanced techniques including slap, tapping, double thumb, chords and arpeggios taught.