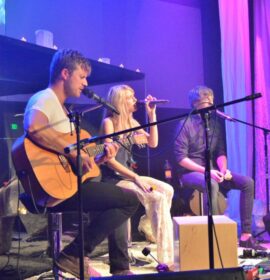 7/9 Colindia Ave, Neutral Bay

Price:

1/2 hour: $35. 45 min: $50. 1 hour: $65.

Styles Taught:

Pop, rock, pop-rock, folk, acoustic, electric, hard rock, punk, covers, music theory, improvisation and soloing, scales, songwriting, reading chord charts and sheet music

Home Lessons Available?:

Yes. We will talk about distance, cost, logistics etc.
PRIVATE CONTACT
CONTACT US
Mobile Guitar Lessons Sydney
Hi, my name's Andy. I give at home / mobile and studio acoustic guitar lessons and electric guitar lessons on the North Shore, Northern Beaches, Inner West, CBD and Eastern Suburbs of Sydney. I've been playing guitar since I was 8, which is over 30 years ago now! I play both acoustic and electric guitar in a wide variety of settings. I have experience in bands of various genres (rock, pop, pop-rock, acoustic, folk, indie, EDM etc), studio and live recordings, musical theatre, ensembles, classes, weddings, corporate functions, churches, tours, events and more.
Having studied and worked in music for about 20 years, I enjoy helping people learn guitar from square one, or assisting working musicians to take their craft to the next level. 
Lesson options:
– My home-studio in Neutral Bay (lower North Shore)
– Your home/office or mobile lessons at another location
– Online via Zoom, FaceTime etc
Pricing:  
– 30 min: $35 
– 45 min: $50   
– 1 hour: $65
I love helping people play better music and would love to help you!