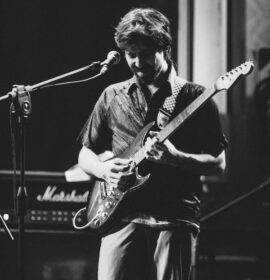 3/82 Blues Point Road

Price:

1 hour 85 AUD, Half Hour 52 AUD

Styles Taught:

Contemporary genres: Blues, Soul, R&B, Latin genres, Afro, Reggae, Pop, Rock, and Fusion.

Home Lessons Available?:

Yes, Sydney and North Sydney Area
PRIVATE CONTACT
CONTACT US
North Sydney Guitar Lessons
Meet Marco, a seasoned Italian-Argentinian musician, producer, and songwriter teaching in North Sydney and Surrounding Suburbs on the north shore. He has a musical journey that spans a rich 18-year career. Marco's passion for music has led him to make a significant impact on audiences, countless students, and fellow artists in various countries.
Beyond teaching, Marco is a dedicated musician with a profound love for songcraft.
His journey is adorned with remarkable achievements. In 2015, Despertar Antoles, a band he co-founded in 2008, was honored with the prestigious title of "Cultural Interest" by the Argentinian Government. They were also recognised as featured artists by the Buenos Aires Art Biennial Commission in consecutive years, 2015 and 2016, and acknowledged by Mute magazine as one of the top 50 emerging artists in Buenos Aires in 2015. Currently resding in North Sydney and teaches in  North Sydney and the surrounding areas.
For over a decade, Marco and Despertar Antoles graced stages at various venues and mainstream music festivals, sharing the spotlight with iconic figures like Jack White, Pharrell Williams, and Robert Plant, among others. Their captivating performances extended to cultural centers and renowned theaters across Argentina.
Furthermore, Marco's accomplishments include the release of a collection of music productions, including his own. Despertar Antoles published a conceptual album, five singles, three official video clips, a collection of handmade illustrations, and a series of unforgettable recorded live performances that showcase some of the music the group didn't record, all drawn from their extensive song catalog.
As the director of Walal for over a decade, his private music studio in Buenos Aires played a significant role in his journey. He cultivated a creative haven for emerging artists and projects, leaving behind a rich legacy of musicians making waves across the globe. Marco's leadership at Walal provided him with opportunities to collaborate with some of the biggest names in the Argentine music industry. He has credits on multiple albums and owns a portfolio of 50 registered songs, some of which are currently being played at music festivals across the globe. He has been part of various projects, from joining bands as a performer to ghost-producing for artists in various genres, including Latin, gospel, hip-hop, rap, blues, rock, psychedelic, and pop. In 2016, Marco ventured into the world of cinema, composing his first movie soundtrack after previously contributing to the sonorisation of two short films.
His tutoring focuses on working along with the student to create concepts and tools to make music learning flow with the student's capabilities.  This approach builds an identity for the student while enjoying and creating a constant learning force. Marco is a true song lover and a devoted musician with a wide experience in the field.