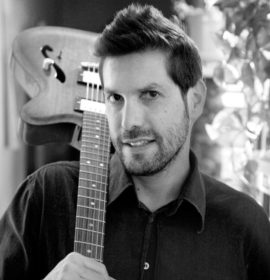 Harbourd Sydney

Price:

$80 per hour lesson

Styles Taught:

Ballade, Blues, Classical, Conducting, Flamenco, Folk, Funk, Jazz, Latin, Modern, Modern Jazz, Music Theatre, Pop, Rock, Swing, Traditional, World

Home Lessons Available?:

yes $ extra depending on distance
PRIVATE CONTACT
CONTACT US
Northern Beaches Guitar Teacher
Douglas lives and teaches guitar on the northern beaches of Sydney and can do home visit lessons in all areas of Sydney.
Born in Brazil and became a Spanish citizen after living and getting involved with Madrid's music scene Douglas studied at Villa Lobos Music Conservatory in São Paulo. In 2000 developed his technique and musicality practicing Flamenco guitar in Spain.
Douglas teaches Guitar, Guitar Acoustic, Guitar Classical, Guitar Electric in a wide variety of styles including Ballade, Blues, Classical, Conducting, Flamenco, Folk, Funk, Jazz, Latin, Modern, Modern Jazz, Music Theatre, Pop, Rock, Swing, Traditional, World
He can help all sorts of student and situations such as Adult Learning, Art Song, Auditions, Band Coaching, Band Performance, Gifted Children, Percussion Group, Performances, Simply Music Method, Special Needs Children, Technique.
He has his children check.