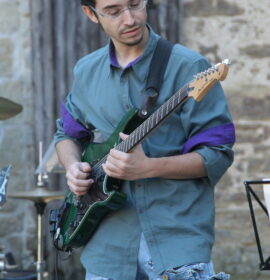 harris st ultimo 2007

Mon, Tue, Wed, Thu, Sat, Sun

:

None

Styles Taught:

Pop, Rock, Funk, Blues, Jazz, Fingerstyle,

Home Lessons Available?:

Only on line lessons available atm
CONTACT TEACHER
Ultimo Guitar lessons
Luca is an Italian guitarist giving private guitar lessons based in Ultimo next to the CBD in Sydney. With 20 years stage experience and 10 years as teacher, he's been helping pupils from 7 to 70 years old to improve their abilities, developing their knowledge and aural, growing their passion for music and guitar. Electric, Acoustic and Classical guitars are welcomed.
A wide range of genres (rock, pop, funk, blues, jazz, …) can be covered at student's will. During the lessons in Ultimo, CBD or surrounding areas, the pupil will be pushed to focus on playing and, trying to keep the fun, to enhance a wide range of topics such as: scales, chords, modes, rhythm, timing, effects, theory, solfege, harmony, ensemble.
Lessons are tailored on each student's abilities, starting to build a repertoire since the very first lesson: one weekly hour commitment required and daily practice recommended, consistency is the key to grab the first solo in few months.
On line guitar lessons are available via Facebook Messenger, Skype and Whatsapp.