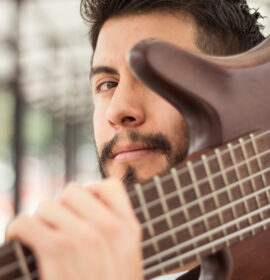 56 second avenue, kingswood, nsw, 2747

Price:

5 Lessons for $70 each (package) 1h $80

Styles Taught:

Rock, Latin, Metal, Progressive, Folk, Slap, Tapping, Ambient, and Soloist Music.

Home Lessons Available?:

Yes, travel inclusive with price. ALL lessons are at the homes of the students. Max. 55 km away.
PRIVATE CONTACT
CONTACT US
Western Sydney Bass and Guitar Lessons
Hernan is a Bass & Guitar tutor in Western Sydney. He comes all the way from México. Throughout his career, he has 15+ years of experience playing live and at recording studios; 7+ years of experience teaching music to children, teenagers, adults, and seniors alike; and 2+ years of experience within Music Therapy.
He is passionate about building rapport with the students and know their interests. He uses the resource-oriented approach to help students achieve objectives each lesson that enable meeting bigger goals in the long run. He is also committed to his students in producing his own audio & visual class materials as he sees required.
The lessons are taught at the students' homes, within Western Sydney.
Specials / Deals
5 lessons for $70 each (package)
5 lessons for $70 each (package)
5 lessons for $70 each (package) 
56 second avenue, kingswood, nsw, 2747
,
Sydney