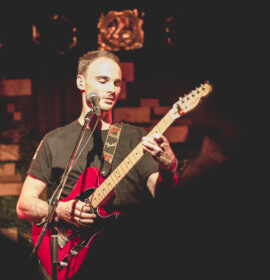 652/7 Hirst St Arncliffe

Price:

1hr :$80 1/2hr : $50

Styles Taught:

Pop, R&B, Jazz, Blues, Folk, Rock

Home Lessons Available?:

no
PRIVATE CONTACT
CONTACT US
Wolli Creek Guitar Lessons
My name is Mike. I teach in the Arncliff and Wolli Creek area of Sydney and I have been playing guitar now for around 15 years. After graduating from The Australian Institute of Music with a Bachelor of Contemporary performance in 2013, I have been able to travel all over the world as a Professional Musician (my favourite was a 9 month contract performing music in Japan).
Currently am a working Musician in Sydney and Wolli Creek area gigging 3-4 times a week in various bands, working with P&O Australia as a Guest Entertainer on Cruise Liners, and teaching Guitar and Music lessons during the week. I have 6 years of teaching experience ranging from young children to adults at any level. I am a very friendly guy and love to teach.
Through my lessons i can teach the basics of guitar (correct technique, chords, melodies) combined with basic music theory to help you understand the instrument an use it to your full potential. Whether you want to learn to strum away a few chords, want to gain a deep understanding of music and the guitar, or anywhere in between, i can help.