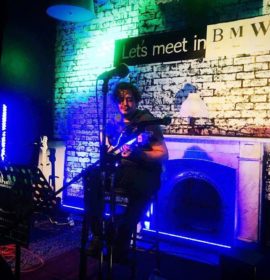 29 Rawson st, Epping

Price:

$35 half hour/$60 full hour ($5 extra to teach at student's home)

Styles Taught:

Jazz, Blues, Funk, Rock, Soul, Pop

Home Lessons Available?:

Yes, 15km radius, $5 extra to teach at student's home
PRIVATE CONTACT
CONTACT US
Epping Guitar Lessons

Guitar teacher James has been teaching guitar in Epping and the Inner Western suburbs for over 7 years and has been playing since his early teens.
Learn to play electric and acoustic guitar as well play a broad range of styles including Jazz, Blues, Funk, Rock, Soul and Pop.
Online guitar lessons available. 
James has students above 18 and is happy to teach all skill levels and genres of modern music. 
Classes are near Epping and always one-on-one and can be as structured or as loose as you want. James is happy to work with your learning style to make your guitar journey enjoyable, productive and fun.
James holds a Bachelor of Music which he obtained from Sydney's premier contemporary music academy Australian Institute of Music 
He uses a variety of teaching techniques to help his students progress their guitar ability with an emphasis on improvisation, developing chord and musical theory as well as working through songs, helping to foster creativity and confidence on the fret board whilst having fun and exploring your creative flair.
James can come to your home near Epping for lessons and is flexible with his schedule.